So, of course I'm linking up with Carly, Kristin, Niki, and Rachel for their weekly Loving Lately blog hop!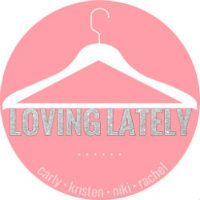 I love my new boot warmers I stumbled upon on Etsy the other day! They were hand crocheted by Julie at Crochet This For Me.
These are so cute and cozy and add such a fun layered look to your outfit. They're so much better than big boot socks, I think. Those suckers make my feet hot and my boots too small. Not a pleasant experience.
Here's a look at my whole boot warmer outfit. Are you digging the laundry on the bed behind me? What are your thoughts on the disgusting finger prints on the mirror that are interfering with the image of the freaking boot warmers? God only knows what those smudges are from. My guess is yogurt. Sweet. These are reasons I could never be a fashion blogger. Just keeping it real, folks.
That's my "Oh, Dear God I feel like a total jackass taking a picture of myself" face just in case you're wondering. This is what I'm wondering: How do we feel about me and the leggings? I think I'm maybe doing them wrong. I felt like I was maybe breaking the "leggings are not pants" rule. Does my top need to be longer? Do I need different leggings?
This is yet another reason I will never be a fashion blogger. Who blogs about an outfit and then gets all low self-esteemy and questions their own judgment half way through the post?
But anyway, I digress....Boot Warmers, they're where it's at! That's all I'm really trying to say!
Here's one more thing I'm trying to say...don't forget to enter my 100 Follower Giveaway for a chance to win an adorable custom kid's room print courtesy of Lisa at Wine and Glue!
Here's a secret: When you only have 100ish followers, not so many people enter your giveaways. Ok, maybe that's not a secret just something any logical person could have worked out on their own. But my point is this: your odds of winning are super high! Go enter!
Here's another secret: Life of Bon
is also hosting a giveaway and she has way more than 100ish followers. Way more. That means more people will enter her giveaway but it also means she's giving away way more crap. And also, I can not confirm or deny that I've supplied some of that crap. So, go enter! That is all.
Have a lovely Tuesday, Loves! What are you loving lately? Comment below and let me know!
xoxo,